Brentino Belluno is the starting point for itineraries on mount Baldo,
or for the "road of the wines" of the Adige valley. From here (hamlet of Brentino) leaves the path towards the
Sanctuary Madonna della Corona
(Our Lady of the Crown). In Brentino also lies one of the most important faces for free-climbing of Italy; this side of Mount Baldo is characterised by very narrow gorges with practicable streams and waterfalls. The most popular sports here are: fishing, with specially equipped areas; free-climbing, canyoning (a variation with the help of ropes), hiking. Some churches and shrines are of particular interest; from the historical point of view, the area has always been inhabited since pre-historical times, and has always been the passageway between the Valpadana (the Padan Plain) and Germany, anticipating the A22 (Verona-Brenner) motorway.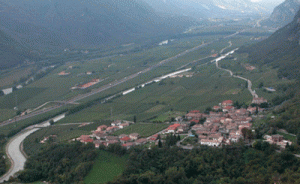 GEOGRAPHY OF BRENTINO BELLUNO
Province:
Verona
Fractions:
Belluno Veronese, Brentino Preabocco, Rivalta
Surrounding municipalities:
Avio
(TN),
Caprino Veronese
,
Dolcè
,
Ferrara di Monte Baldo
,
Rivoli Veronese
Altitude:
137 s.l.m.
Population:
1423 (2012)
Inhabitants name:
Brentinesi  
Saint Patron:
St. John the Baptist, St. James the Great 
Festivity day:
June 24, July 25
HISTORY OF BRENTINO BELLUNO
TO VISIT IN  BRENTINO BELLUNO