Brentonico
is a village composed of many hamlets scattered throughout the municipal territory, but it is the larger ones that constitute the village itself, and they are: Fontana, Fontechel, Lera and Vigo. The name of the village comes from the plateau, whose shape reminds that of a basin ("brenta" in the Trentine dialect), and includes all of the Sorna valley. This valley differs from the Trentine environment in climate and conformation, as it is surrounded by the ranges of Mount Baldo, of Mount Altissimo, of the Colma di Vignola and of Pravecchio.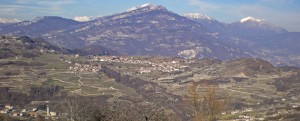 TERRITORY OF BRENTONICO

Province:
Trento
Fractions:
Castione, Cazzano, Corné, Crosano, Festa, Fontechel, Polsa, Prada, Saccone, San Giacomo, San Valentino, Sorne
Surrounding municipalities:
Ala
,
Avio
,
Malcesine
(Vr),
Mori
,
Nago-Torbole
Altitude:
698 m s.l.m. –
Population:
3.874 – 
Population name:
brentegani
Brentonico is composed of several hamlets in the municipality, but it is the most populated districts that combine to form the town of Brentwood and Fountain, Fontechel, Lera and Vigo The name is given from the plateau in the shape of a basin (in Trentino dialect "brenta") and includes the valley of the Sorna. This differs from the valley in Trentino climate and shape, surrounded by the mountains of Monte Baldo, Monte Altissimo, the Colma di Vignola and Pravecchio.
HISTORY OF BRENTONICO
The plateau of the town of Brentonico was inhabited since prehistoric times, but about the true population of the area you can talk to the Middle Ages, with the action of cleaning the mountain of 'XI-XII centuries. At that time the area was due to the bishopric of Verona and was of particular importance, as demonstrated by the fact that there were built fifteen castles, for example: Castrum Therodoy, Castle Cemetery (Vigo), Castellione, Castrum Paludis, Rovione, Castrum to Zengulo, Dossomaggiore and Saiòri, the latter two of the most important of which are the ruins, the other almost in name only.
After various jobs in the sixteenth century. back in the hands of Trent, which, given the centrality of the place makes it the seat of the Vicariate Four and Captain of Justice. In the mid-seventeenth century. a massive landslide destroyed the little town of Fano, near the center of Brentonico.
In the eighteenth century. suffered the destruction of the castle of Dossomaggiore by the French.
TO VISIT IN BRENTONICO