Castel Goffredo
is an important centre between the Morainic  Hills of Lake Garda and the Padan Plain, characterized by a continental climate and thick fogs in the winter. The economy of the village is based on agriculture, but above all on the industrial textile production. The main
square
, the
town house
, some mansions and churches must be seen.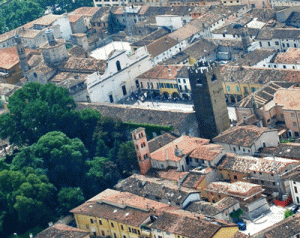 TERRITORY OF CASTEL GOFFREDO
Fractions:
Berenzi, Boccardi, Bocchere, Casalpoglio, Coletta, Gambina, Giliani, Lodolo, Perosso, Poiano, Deep, Rassica, Romanini, Sant'Anna, Selvole Valzi, Villa, Zecchini
Neighboring municipalities:
Castiglione delle Stiviere
,
Medole
, Ceresara,
Casaloldo
, Asola, Casalmoro, Acquafredda (BS),
Carpenedolo
(BS)
Altitude: 50 mslm – Population: 11.720 – Inhabitants name: castellani; goffredesi; castelgoffredesi
The territory belongs to subcollinare area, at the foot of the hills that surround Lake Garda into the Po Valley, is characterized by the presence of "springs" and groundwater resources. Climate: The climate of Castel Goffredo is a typical continental climate spread throughout Lombardy. The winter period is characterized by days of heavy fog.
HISTORY OF CASTEL GOFFREDO
Castel Goffredo was founded as a network of roads in Roman times, but it was already inhabited in the Bronze Age and Etruscan, from '800 to 1115 it was part of the County of Brescia, after the city gave him the status of a free city and when Brescia was no longer able to defend it in the year 1337 passed under the protection of Mantua and the Gonzaga. In 1529 became the capital of the Marquis Gonzaga Aloysio. At his death, the state of Castel Goffredo, Castiglione e Solferino was divided between his two sons, the eldest son Alfonso it fell the capital Castel Goffredo, who was assassinated by his nephew in 1592, the territory of the state was annexed to the Duchy of Mantua until 1707. In 1861 it became part of the Kingdom of Italy.
TYPICAL LOCAL PRODUCTS OF CASTEL GOFFREDO