The town of Castelnuovo lies on the morainic hills,
south east of Lake Garda. The vegetation is composed of olive trees, cypresses, vines and mediterranean plants. Throughout the centuries it saw the passage of the armies, as the town was an important crossroads for roads to the towns of Verona, Mantua, Brescia and Trent. The
Visconti tower
, the
castle
, the
parochial church
, the churches of the hamlets and some mansions can still be seen. The Gardaland fun park is certainly more famous , and nowadays it brings to this town thousands of visitors, both from Italy and abroad.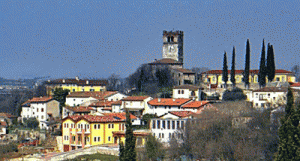 TERRITORY OF CASTENUOVO DEL GARDA
Province:
Verona
Fractions:
Cavalcaselle, Oliosi, Ronchi, Sandrà Camalavicina
Surrounding municipalities:
Bussolengo
,
Lazise
, ​​
Peschiera del Garda
,
Sirmione
(Bs),
Sona
,
Valeggio sul Mincio
Altitude:
130 m s.l.m. –
Population:
12,527 –
Inhabitants name:
of CastelnuovoCastelnuovo del Garda is 18 kilometers from Verona. Compared to the capital is located west in the direction to Peschiera. A small part of the town is watered by Lake Garda separating the towns of Peschiera and Lazise, ​​but the territory is extended especially amongst the hills
HISTORY OF CASTENUOVO DEL GARDA
It is believed to have been inhabited even in prehistoric times, since the discovery of archaeological finds from that era. The town was known since ancient times due to its central position in relation to the major cities of this area of ​​north-central; Verona, Mantua, Brescia and Trento (hence the name "Quadrivium." The first settlements were born in the area closest to the lake and then was the first fortification built by the Romans on the "Monte Alto", a watchtower in the second century. served them to fight against the Umbrians, a population of pastoralists who had settled in the area. From that time on they passed over this territory many Roman army and barbaric. In the twelfth century it was destroyed by Frederick Barbarossa, but the inhabitants decided to build a new fort to defend themselves, "Castrum Novum" which later became "Castelnuovo". The town passed into various hands by the Scala to the Visconti and to the Republic of Venice, suffered the plague of 1630, Napoleon stopped there and was later destroyed and plundered by the Austrians in 1848.
TO VISIT IN OF CASTENUOVO DEL GARDA
Castelnuovo Castle, Church of St. Mary, Cossalli Villa-Sella-Villa Rizzini Salvelli, Valcerea Villa, Villa Arvedi of Emilei, Church of Our Lady of the Angels, Church of San Lorenzo, Church of SS.Filippo and James, House Benati , Church of St. Andrew, Villa Mosconi Negri-
TYPICAL PRODUCTS OF LOCAL CUISINE OF CASTELNUOVO DEL GARDA
Lake fish of Garda lake, wine Bardolino, wine Lugana, wine Custoza