Costermano is a village that lies between the lake and Mount Baldo.
People usually pass through here on their way to the Garda in order to avoid the lakeside road. It stands on an elevated position above the lake and enjoys a slightly cooler climate during the summer. It also offers a particularly nice landscape, with a view of the vineyards and olive trees below. Some of the mansions built as summer residences by some noble families of the Veronese area, as well as the German cemetery and the churches, can still be seen.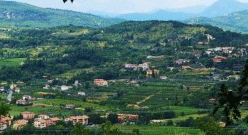 TERRITORY OF COSTERMANO

Province:
Verona
Fractions:
Albarè
,
Castion
,
Marciaga
, Pizzon, San Verolo
Surrounding municipalities:
Affi
,
Bardolino
,
Caprino Veronese
,
Garda
,
Rivoli Veronese
,
San Zeno di Montagna
,
Torri del Benaco
Population:
3.551 –
Inhabitants name:
costermanesi
The municipality of Costermano remains in the hinterland of Lake Garda, in a higher position and with a slightly cooler climate, you pass to quickly reach the average Garda or to go to Monte Baldo going from Caprino or from San Zeno di Montagna. Its territory extends over seven hills: Castle, Montegolo, Are di Sopra, Guards, Boffenigo Murlongo and Baesse.
HISTORY OF COSTERMANO

Costermano and Castion were two separate municipalities, and April 9, 1928 a royal decree established that Costermano would become the capital. The centers were part of "Pieve di Garda" and the "Gardesana di Terra e dell'Acqua". They are the 1800 -1000 BC the first settlements in certain common, it is found in places Maoni ceramic elements. There are also evidences of human presence in the Iron Age with petroglyphs of Sengie Marciaga where the warriors are depicted with swords and knights. In 1897 and early 1900 to Valdoneghe have been found with burial kits, cover, sarcophagus, a bronze and divinity, findings that confirm the existence of Roman villages in the territory of Costermano. In 1193 there was a major expansion that gave rise to the centers of Costermano, Marciaga, Castion and Albarè when the Emperor Henry VI gave the territory of the Garda to Verona so common that these four communities are dependent on Verona. Mastino della Scala was appointed Podestà and the area west of Lake Garda with its hinterland are organized in a district called "Gardesana". Remain the property of the Scala until 1387 when the Visconti succeeded to Scala also in the control of Verona. Then in 1404 the land ends up in the hands of the Venetians, all remains quiet until the year 1630 the year of the plague that will reap many victims. Churches such as San Lorenzo to Valonghe and that of Our Lady of Salvation are used as infirmaries. When the Venetian Republic collapses the various municipalities, with Costermano were under Austrian rule until 1866, when he finished the third war of independence and the Veneto became part of Italy.