Gardone Riviera
is the town of
Gabriele D'Annunzio
, who settled here after World War I, in the villa "
Vittoriale degli Italiani
", which became a monumental museum to himself.  The village has been internationally renowned since the IX century as a health resort, and it is scattered with gardens and historical mansions. Thanks to the mild weather, several plants of various origins, even sub-tropical ones, can be found here.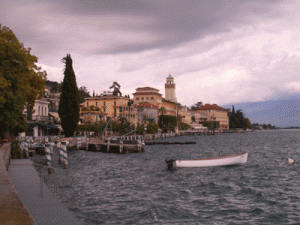 TERRITORY OF GARDONE RIVIERA

Province:
Brescia
Fractions:
Fasano, Morgnaga, San Michele, Tresnico
Surrounding municipalities:
Salò
,
Toscolano-Maderno
, Vobarno
Altitude:
65-1.100 m s.l.m. –
Population:
2.665
The town of Gardone Riviera is located on the Brescia side of Lake Garda and is part of the Regional Park of the Alto Garda Bresciano. Its territory extends from the lake to the mountains, is one of the most beautiful and elegant of the lake to the variety and splendor of vegetation due to the mild climate. Famous International station stay lies in the hills between the surrounding large gardens, villas and luxurious hotels. The hinterland offers the possibility of walking with sights of extraordinary beauty.
HISTORY OF GARDONE RIVIERA
Historians argue that Gardone Riviera was founded by the barbarians, although in Roman times was inhabited as can be seen from some findings, it is known that in the Middle Ages it belonged to the family of Ugoni. Later it became part of the dominion of the Serenissima before being occupied by the Jacobin government. Gave special impetus Luigi Wimmer, hotel industry pioneer, born in Germany but fighting for Italian independence. He was in Gardone Riviera in 1880 and he fell in love with the natural environment characterized by a constant and mild climate even in winter. He founded hotels, urged various initiatives and created connections with the cosmopolitan world. In 1921 Gabriele D 'Annunzio took up residence at Villa Cargnacco, then transformed in the monumental complex of "Vittoriale degli Italiani".