Lazise, with fractions of Pacengo and Colà,
is one of the famous towns of the eastern shore of Lake Garda, its walls is of a certain size and encompasses the entire center of the country that is largely pedestrianized, thus facilitating the influx of many tourists. Here visitors are to visit a typical medieval village by the lake with the Scaliger castle, the walls in good condition, the Venetian customs, medieval churches of  S.Nicolò al Porto, dei SS.Fermo e Rustico, la Chiesa di San Faustino e Giovita , some palaces and villas.
At about 3 km is the village of Colà, less crowded, also feature within the park of  Villa dei Cedri is home to the "Parco Termale del Garda".
In the town of Lazise are a large number of campsites, hotels, restaurants.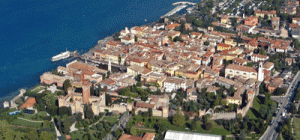 TERRITORY OF LAZISE

Lazise is located on the Verona side of Lake Garda, situated in the plain between the lake and the backwaters of morainic hills, the highway Peschiera-Affi roughly marks the boundary with the hinterland the village of Pacengo is located near the lake while Colà is back to a few kilometers
HISTORY OF LAZISE
Lazise has had settlements since prehistoric times, since the discovery of some piles in the area. During the Roman period was one of the places on the lake that was home to the transit of goods between Germany and the Po Valley. In the Middle Ages it was an important military port land protected by a wall that included the old village and which were large parts, including doors: "Porta Superiore", "Porta Meridionale" (the Lion) and the "Porta Nuova" (Cansignorio ). The castle was built by the Scala in the middle of the fourteenth century by transforming a previously built probably before the 'eleventh century. The port was built around the twelfth century church of S. Nicolò, patron of sailors. In the early years of the fifteenth century Verona was incorporated in the territories of Venice, but Lazise rebelled and was so besieged by militias blinds that did capitulate, after a few years decided to Venice restaurarne the walls and you can put a castle for its control. In that century Lazise suffered, like many other towns, the expansionist ambitions of Gonzaga and Visconti, but then found a long period of peace and prosperity, interrupted by the plague of 1630.
LOCAL PRODUCTS OF LAZISE
Lake fish of Garda lake, wine Bardolino, Olive Oil of Garda dop,