Manerba del Garda is located on the western shore of Lake Garda, in Valtenesi,
easily noticeable from the lake thanks to the "Rocca di Manerba" (fortress of Manerba) which stands on the bank of the lake, making it a panoramic point of view for the low Garda and the place where once there was a castle, completely destroyed over time because often the home of brigands. The town has always been popular with locals for its beaches and natural beauty of the area, it is part of the
Parco Naturalistico della Rocca
(Natural Park of the Rock), where there are some interesting archaeological finds that through the history of the area since prehistoric times. Near Pieve Vecchia is the Romanesque church of Santa Maria in Valtenesi while in front of the Rocca there is the "Isola dei Conigli" (Rabbit Island), which is reachble by foot when the lake water is low.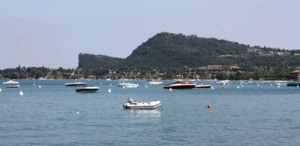 TERRITORY OF MANERBA DEL GARDA

Manerba is part of Valtenesi, on the south-west of the lake and is located in the "Parco della Rocca", a splendid panoramic view over the lake is divided into six districts and is a favorite seaside destinations Brescians but also foreign tourists during the beautiful summer season. Opposite Manerba there 's the "Isola of San Biagio", commonly known as "Isola dei Conigli" (Rabbit Island).
HISTORY OF MANERBA DEL GARDA
The name of Manerba is supposed to come from the presence of a temple dedicated to the goddess Minerva, or by the words "mon" head "erb" military zone, in the language of the Galli Cenomani. Like the rest of the Garda area has been inhabited since ancient times, given the presence of villages dating back to prehistoric times, where it was found one near the fortress, dated between 4,500 and 4,000 BC. This part of the lake area has always been a great place to live, given the convenience of the ways of earth and water, but has always found a place easily attacked, and this explains the presence of many fortifications in the area. In particular, the Rocca di Manerba, given the strategic place, was one of the first castles built in the twelfth or thirteenth century, the place where before there was a medieval fortress and before that a Bronze Age settlement, was also an important military site of the Lombards and the Franks to resist. With time, however it was a stronghold of bandits and outlaws, to the point that the Venetian Republic ordered the complete destruction in 1787.
TYPICAL LOCAL PRODUCTS OF MANERBA DEL GARDA
Garda west coast Extravirgin oil dop, wine Garda Classico doc, lake fish of Garda lake