The village of Monzambano, with its hamlets of Olfino, Pille and Castellaro Lagusello,
which is the best known, is located in the middle of the Colline Moreniche del Garda, set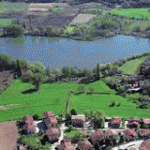 among olive trees, cypresses and vineyards and perched on a hill, surrounded by walls of the castle of the twelfth century that is still in good condition. In the historical center there are some buildings of the '400-'500 and close to the castle stands the church of San Michele Arcangelo in Baroque style, this church was built between 1743 and 1777. Inside, the main altar and on it the blade depicting the triumph of St. Michele Arcangelo to whom it is dedicated. The town lives mainly on agriculture and vineyards, between the festivals to remember the "Festa dell'Uva" (feast of grapes) which takes place on the third Sunday of September. 
Castellaro Lagusello
is mentioned among the most beautiful "
Villages of Italy
", charming and fortified with a castle that dominates the town, is located on the shores of lake that once housed a village dwelling. This location was strategically important given the position between the provinces of Verona, Mantua and Brescia, hence the decision of the
Scala
, between 1100 and 1200, to build a castle here. Can be found in excellent condition the walls, parts of the trench walls, some medieval houses and four towers.
TERRITORY OF MONZAMBANO

The town of Monzambano is located along the river Mincio, after Ponti coming from Peschiera del Garda, in the middle of the "Colline Moreniche del Garda"
HISTORY OF MONZAMBANO
When Verona in 1945 came under the influence of Venice, Monzambano also followed its fate, this you can see the winged lion of St. Mark we see in the castle tower, which has Scala origins. Monzambano until 1797 was part of Veneto, and after the capitulation of the Venetian Republic, Napoleon himself laying out the new boundaries Monzambano moving to Verona in Mantua.
TYPICAL LOCAL PRODUCTS OF MONZAMBANO
Wine of Morainic Hills of Gardalake, mantuan salami, chisol, fresh egg pasta