The municipality of Nago Torbole
is formed by the union of the town of Nago, Torbole and Tempesta,
coming from Arco or Mori we find first
Nago
(222 m), located between the pitch of the "
sella di Loppio
" and the estuary of Sarca river, it remains elevated above the lake and is mainly a destination for mountain sports, mountain biking, rock climbing or for excursions to the Austrian forts, then we arrive at
Torbole
, which overlooks the lake and due to the constant presence of wind, is a destination for tourists but expecially for sportsmen, here are sailors from many countries. The territory along the last stretch of the River Sarca at the point where the river flows into Lake Garda, was once a place of passage for goods traveling by water between the north and the Po plain, then also developed an intense activity of smuggling.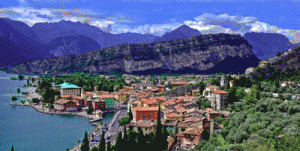 TERRITORY OF NAGO TORBOLE

Province:
 Trento
Hamlets:
 Nago, Tempesta, Torbole
Surrounding municipalities:
Arco
, 
Brentonico
, 
Malcesine
 (Vr), 
Mori
, 
Riva del Garda
Altitude:
 85 m s.l.m. –
Population:
 2.620 –
Inhabitants name:
 torbolani, naghesi
The municipality is formed by the union of the village of Nago and Torbole and develops between the lake, the estuary of the River Sarca and Mount Altissimo. The best known village is  Torbole, which remains on the shores of Lake Garda that is a predominantly tourist destination and in particular for sports, the other Nago, remains higher than the lake (222 m) and meets the road that leads to Mori.
HISTORY OF NAGO TORBOLE
The oldest human presence, the Neolithic and Bronze Age settlements have been found mainly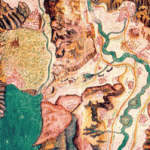 in the area of Nago; in this elevated and panoramic location there was a castle (which was later destroyed by French troops in early 1700). In 1439 came the conquest of the Venetians who were the architects of the "
Galeas per montes
" when they transported an entire fleet of ships through the
Valle del Cameràs
starting from the Adriatic, going up the Adige river to reach the port of Ravazzone and passed through Mori to Lake Loppio. During the Second World War was annexed to the town of Riva and in 1958 the town of
Nago Torbole
returns autonomous, this time a large part of the population abandons the historical economics of the country, based on agriculture and fishing for sightseeing.
TYPICAL LOCAL PRODUCTS OF NAGO TORBOLE
lake fish of Garda lake, Olive oil of Garda dop,