Pomarolo municipality of Trento, located between the river Adige and the mountain, the name derives from "pomarium" (orchard), for the cultivation of fruit, but once also of tobacco; there were also six mills and it was also known for weaving. The oldest part of the village is Basiano district, of Roman origin and perhaps the best preserved. Another characteristic part is the hamlet of Chiusole, of which only a row of houses close to the rock remain, whose name derives from "small enclosure" as the boats departed from here on the opposite bank and down the river; it was strongly marked by the passage of the Brenner motorway that passes over what was the old town; here the water of the Adige was commonly used both for all the housework and to be drunk until the first decades of the nineteenth century, so much so that the aqueduct was built very late.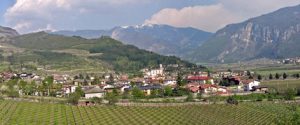 TERRITORY OF POMAROLO
Province: Trento
Fractions: Chiusole, Savignano
Neighboring municipalities: Aldeno, Cimone, Nomi, Rovereto, Villa Lagarina, Volano
Altitude: 206 m.s.l.m. Inhabitants: 2453 Name inhabitants: Pomarolesi
HISTORY OF POMAROLO
Of origins perhaps pre-Romanesque, it was known for agricultural production; near it there are the ruins of the castle of Castelbarco, which hosted the emperor Charles IV; cited in 1230 was the church of San Antonio. Pomarolo is the birthplace of some famous people of the eighteenth century, such as Felice Fontana, physicist; Gregorio Fontana, professor of mathematics; Gerolamo Tartarotti, writer and philosopher.
TO VISIT IN POMAROLO
Church of San Rocco, some beautiful stone portals of the seventeenth and eighteenth centuries, Chiusole house, Galvagni house, Basiano district, church of San Cristoforo
LOCAL PRODUCTS AND DISHES OF THE LOCAL CUISINE OF POMAROLO
Apples, grapes, cherries