Ponti sul Mincio is surrounded by Colline Moreniche del Garda, 
a few kilometers from Lake Garda, located in the hinterland and , was once a fortified castle to defend the right bank of the river Mincio; to see in Ponti sul Mincio remain the walls of the castle that are still in excellent condition. Around the village of Ponti sul Mincio alternating hills and meadows with small pools of water, to form a territory based largely on agriculture but is now a destination for many tourists who find relaxing places for cycling and good food with local produce.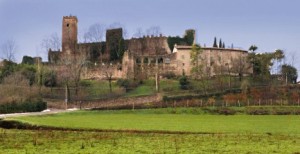 TERRITORY OF PONTI SUL MINCIO

Altitude: 113 m s.l.m. – Population: 2.233 – inhabitants name: pontiroli
The municipality of Ponti sul Mincio remains behind Peschiera del Garda and is largely bounded by the river Mincio, immersed in the green hills, is one of the production of local products of the "Colline Moreniche del Garda", including wine Garda Classico DOC.
HISTORY OF PONTI SUL MINCIO
Land border dispute between military interests and political Ponti sul Mincio is a country where it seems that time has stopped, in addition to the castle you can visit an interesting museum dedicated to African campaigns. Its origins are nestled at the foot of the medieval castle is historically entered into the system of forts of Scala family. The municipality of Ponti sul Mincio was very important for the defense of the territories of the lower lake Garda for its hilltop position where you could control the movement very well and the crossing of the Mincio river, the bridges and then the traffic between the Veneto and Lombardy. They also control the communication routes that came from Mantua, although to a lesser extent since the Scala had in that area fortified villages like Monzambano, Castellaro and then Valeggio.
LOCAL PRODUCTS and LOCAL CUISINE OF PONTI SUL MINCIO
Wine Custoza, wine Colli Morenici, Olive Oil of Garda dop,