Puegnago del Garda is surrounded by the Morainic Hills of Garda
that stretch on the western side of Lake Garda. The City of Puegnago is thus part of
Valtenesi
and includes six small villages
Castle
, the Town Hall and the Parish,
Mura
,
Palude
,
Monteacuto
,
Raffa
and
San Quirico
. In a good location, the town overlooks the azure of the lake and enjoy the view of Monte Baldo on the opposite side. Among the hills, forests, fields and vineyards surround the village green and open to the sun. The time seems to have left intact not only the nature but also the villages of the country from ancient charm, full of evocative traces of past history and precious works of art preserved in churches. From deep and visible of these people to their land, created attention to the maintenance of local traditions, which are passionate. Visitors in Puegnago can enjoy the tranquility of these places and rediscover the flavors to the table. Among the
typical products of the Valtenesi
as
olive oil of Garda DOP
and the local Valtenesi wine including the famous "
Groppello
" and "
Chiaretto
". Worthy of note is the truffle, prized at regional level.There are many events that demonstrate the importance of the agricultural tied to tradition and the desire to enhance it, including the "
Puegnago Fair
" held every first weekend in September.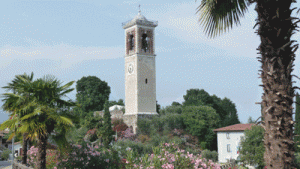 TERRITORY OF PUEGNAGO

Province: Brescia
Hamlets:  Castello, Mura, Palude, Monteacuto, Raffa e San Quirico
Bordering municipalities: Gavardo, Manerba del Garda, Muscoline, Polpenazze, Salo', San Felice del Benaco
Population: 2.775 –
HISTORY OF PUEGNAGO
The name "Puegnago" is of Roman origin (Popinius for linguistic evolution became Popiniacus) or Celtic, given the suffix "needle." What is certain is that this territory was inhabited in prehistoric times, as evidenced by the remains of pile dwellings raised in ponds Sovenigo. He was later to Roman rule (there are many tombstones found at that time) and then the Longobards. Puegnago was considered fraction of Salò until 1427, when it follows the fortunes came under the control of the Serenissima Republic of Venice. In recent years, the country became part of Valtenesi. In the seventeenth century its inhabitants were severely affected by the plague and then by looting soldiers Gallo-Hispanics during the war of the Spanish Succession plundered the country, even the money of the Society of the Body of Christ. It was later ground of Napoleonic battles became part of the Cisalpine Republic. With the end of the French Revolution and the Napoleonic Wars Puegnago passes under the Kingdom of Lombardy-Venetia, but with the armistice of Villafranca of 1859 is dependent on the administration about Turin and Verona for religion, even now the whole Valtenesi is under the diocese of Verona. If in the nineteenth century Puegnago, Soiano and San Felice were gathered together, only in 1928 the country was united Raffa.
LOCAL PRODUCTS AND LOCAL CUISINE OF PUEGNAGO
Garda Classico doc wine, Groppello wine, Extravirgin Olive Oil of Garda dop