Ronzo Chienis is located in Val di Gresta and is surrounded by mountains Stivo, Biaiena and Creino;
it is ten kilometers from Lake Garda During the war, these countries suffered several bombings destroying large areas that were later rebuilt with large squares and not considering the characteristic building in the area, however, in some places, are still visible of the districts composed of the old buildings. The town is known all over the Trentino for its
biological products
and well known is its
"Mostra Mercato
" that for more than forty years, showcases its products. In addition to agriculture this is also common goal of increasing German tourists riding their bikes climb the mountain roads.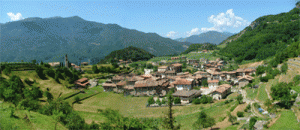 TERRITORY OF RONZO CHIENIS

Provincia:
Trento
Hamlets (localities):
Santa Barbara, Prà del Lac
Surrounding municipalities:
Arco
,
Isera
,
Mori
,
Villa Lagarina
Altitude:
1000 mslm –
Population:
1.011 –
Inhabitants name:
  cianisi
Ronzo Chienis remains on the north side of Val di Gresta, north-east of Lake Garda, to get there take the road that leads to Mori Nago-Torbole then, at the height of Loppio we turn to Val di Gresta. The area enjoys a mild climate, suitable for agriculture, which is the main activity here, with biological crops.
HISTORY OF RONZO CHIENIS
Mentioned for the first time in documents of the thirteenth century Ronzo and Chienis were part of the ancient Pieve di Gardumo. In 1225 a family of Lords of Gardumo built the castle Gresta, which passed in 1324 to the Lords of Castelbarco, which maintained the feudal Tyrolean jurisdiction of Gresta until the early nineteenth century. With the Napoleonic kingdom of Italy, in the Val di Gresta were united into a single administration but with the Austrian Government reconstituted each his own town. In 1923 Ronzo Chienis were joined by the Italian Government to the City of Pannone with Varano, Manzano and Nomesino and the Valle San Felice was joined to the municipality of Mori. Ronzo and Chienis maintained in common over the centuries the church of S. Michele-Assunta and the cemetery while maintaining two separate registers. Since 1971, he described the new municipal structure and Ronzo and Chienis finally united and the villages of Varano, Manzano, and Nomesino Pannone together with the town of Mori.
LOCAL PRODUCTS AND THE LOCAL CUISIN OF RONZO CHIENIS
Biological fruit and vegetables