Sant 'Anna d' Alfaedo here you can enjoy beautiful views of the Valpolicella,
on Lake Garda, the Val d'Adige and Trentino. The town also has a variety of woods, meadows and pastures, as well as being a natural beauty, are used for agriculture and livestock. The territory of Sant' Anna d 'Alfaedo part of "Parco Regionale Naturale della Lessinia", which covers 10,000 hectares circus Lessini Mountains, from Verona to Trento. The aim is to reconcile the human presence with the preservation of capital. Sant'Anna d'Alfaedo is also known for its cuisine based on local dishes for Lessinia stone, widely used in construction, and other attractions such as the Ponte di Veja, the Spluga della Preta and the Covalo dei Ciabattini.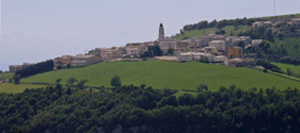 TERRITORY OF SANT' ANNA D' ALFAEDO

Province:
Verona
Hamlets:
Ceredo, Cerna, Fosse, Giare, Ronconi, Sant'Anna
Surrounding municipalities:
Ala
(Tn),
Avio
(Tn),
Dolcè
, Erbezzo,
Fumane
,
Grezzana
,
Marano Valpolicella
,
Negrar
Altitude:
939 m s.l.m. –
Population:
2.500 nel (2007) –
Inhabitants name:
faetini
Thirty kilometers from Verona there is Sant 'Anna D'Alfaedo, the territory is in the south of the two Horns (Corno D'Aquilio and Corno Mozzo). The part of the town north of the Corno D'Aquilio is called Pialda Bassa. This place is situated Spluga della Preta, a set of caves known as the deepest in the world. In the south however there is another masterpiece of nature: a natural stone bridge (remnant of a slow erosion of a cavern): the Ponte di Veja.
HISTORY OF SANT' ANNA D' ALFAEDO
Sant 'Anna d'Alfaedo has been inhabited since the Jurassic period, were found several prehistoric sites in various parts of the town documenting human presence since 350,000 BC In Roman times, the area was used exclusively for the pasture and had no fixed villages, although at that time they found various objects, such as coins and tombs. Only in the Middle Ages there were the first permanent settlements with the delimitation of the area by Cangrande della Scala, when Cona was the most important center and became the town hall with a vast territory. The City of Sant' Anna d'Alfaedo was born in 1928.
TO VISIT IN SANT'ANNA D'ALFAEDO
Ponte di Veja, Spluga della Preta, Church of Saint Giovanni in Loffa, Paleontological and Prehistoric Museum,
LOCAL PRODUCTS AND LOCAL CUISINE OF SANT' ANNA D' ALFAEDO
Valpolicella wine