Soiano del Lago is on the Garda morainic hills which are part of Valtenesi,
it has ancient origins, given the findings from the Bronze Age. The city of Soiano preserved castle dating from the tenth century, built on Roman ruins. The tower dominates the surrounding landscape, with breathtaking views of the lake. The production of wine, olive oil and cereals, is a starting point for menus in restaurants and farmhouses. For golf enthusiasts, the territory Soiano, runs the route of the Garda Golf Country Club (golf with 27 holes). The town of Soiano is very active and carefull to the needs and expectations of citizens and tourists throughout the year, the municipality organizes cultural events and artistic importance that contribute to the aggregation youth and the collective fun.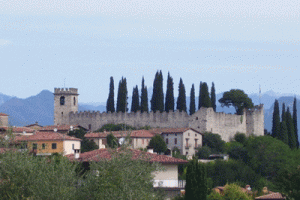 TERRITORY OF SOIANO
The town of Soiano is located in the hinterland of the lake is 196 meters above sea level and enjoys a mild climate.
HISTORY OF SOIANO
From the Latin "Solis Lanua", "Gate of the Sun", hence the name "Soiano." The city of Soiano offers several proposals both cultural entertainment to make the location a destination for young and old.
Soiano has prehistoric origins. In 899 the Hungarians destroyed many Roman monuments including the temple dedicated to Jupiter. Right after that terrible invasion of the castle was built. It immediately became the center of the community and as a place of defense, both of peaceful meetings. In 1300 there was the first religious settlement, where, on the road leading to Padenghe was founded the Convent of San Rocco.
LOCAL PRODUCTS AND LOCAL CUISINE OF SOIANO
Garda Classico doc wine of Valtenesi, Lake fish of Garda lake, Olive oil of Garda lake