Tremosine is part of the Park of the Alto Garda,
has eighteen hamlets, including Castone, Musio, Vesio, Voltino, Pieve and Campione, it has mountainous territory with stunning views over Lake Garda and its famous road carved into the rock.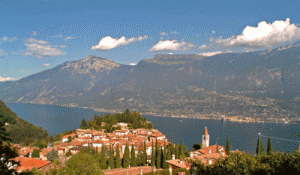 TERRITORY OF TREMOSINE

Province:
Brescia
Hamlets:
Arias, Bassanega, Cadignano, Campione, Castone, Mezzema, Musio, Pieve (sede comunale), Pregasio, Priezzo, Secastello, Sermerio, Sompriezzo, Ustecchio, Vesio, Villa, Voiandes, Voltino
Bordering municipalities:
Limone sul Garda
,
Magasa
,
Ledro
(Tn),
Tignale
Altitude:
414 m s.l.m. –
Population:
2.130 –
Inhabitants name:
tremosinesi
HISTORY OF TREMOSINE
Prehistoric objects found in Pieve evidence of human presence in the area since Neolithic times, before Roman times, probably arrived Etruscans and Cenomani. It was for example found in the bell tower of the church of Voltino a Roman tombstone of the first century AD, written with an alphabet of probable Etruscan origin or Rhaetian. There are many testimonies of the Roman period, when famous personalities and rich peasants of the great Roman Brescia came here, to their rural estates, to be built fine tombs with epitaphs. Nothing is left to witness the medieval period. Tremosine was often an area temporarily conquered by the owners of the moment, broke out in 1287 as a war between Brescia and Trento for its possession. In the fifteenth century came under the dominion of the Serenissima Republic of Venice, in which lives a certain prosperity thanks to its agriculture, livestock and small metallurgical centers exploiting hydropower. The only negative episodes are linked to the continuous passage of armies on the land of passage, helpless far from Venice, such as the French, who used it in 1703 Nota Pass and stopped in Vesio before the war against Germany.
If Tremosine in 1815 became part of the Kingdom of Lombardy-Venetia and in 1861 it will be that of Italy, on the border with the Austro-Hungarian Empire. With the onset of World War I, the mountains become Tremosine settlement area of thousands of Italian soldiers Step Note is indeed Headquarters of the First Army Subsector dependent. 1918, confirms the membership of Tremosine the Kingdom of Italy and 1931 marks the end of its isolation thanks to the construction of the road Gardesana between Gargnano and Riva.
LOCAL PRODUCTS AND LOCAL CUISINE OF TREMOSINE
Olive Oil of Garda dop, Tremosine cheese,