Volano, municipality of the province of Trento is located on the left bank of the river Adige, the population is located at the bottom of the valley even if the territory also includes a part of Mount Finonchio, characterized by intense crops with vineyards and orchards (apples); historic area of production of Marzemino wine.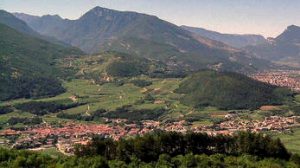 TERRITORY OF VOLANO
Province: Trento
Fractions: n.d.
Neighboring municipalities: Calliano, Nomi, Pomarolo, Rovereto
Altitude: 189 m.s.l.m.  Inhabitants: 3102 Inhabitants name: Volanesi
HISTORY OF VOLANO
Intensely inhabited in the Neolithic, in the period of the ancient Bronze and the Middle Bronze; inhabited since the III-IV century after Christ by the Romans, the first citations of the Commune are found in the "Historia Longobardorum" of Paolo Diacono of 590 cC, when he indicates it as one of the villages destroyed by the Franks during a raid on Longobard territory. of the end of the year 1100, named as Avolano. In medieval times it was under the jurisdiction of Castel Beseno which passed under the Castelbarco until 1439, when it passed to the Venetian Republic of Venice.
TO VISIT IN VOLANO
Church of San Rocco, Hermitage of Santa Cecilia
LOCAL PRODUCTS OF THE LOCAL CUISINE OF VOLANO
Grapes, apples, Marzemino wine