Volta Mantovana, is a typical village of the morainic hills of Lake Garda and upper Mantua;
the rolling countryside covered with vineyards and transmit the serenity that often seek tourists from Lake Garda in these areas; the beautiful palaces of the lords of the past valances and valance kitchen then enrich these territories by creating a winning mix of beauty of nature, art and gastronomy.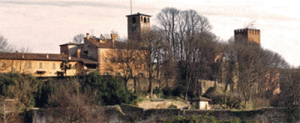 TERRITORY OF VOLTA MANTOVANA
Province: Mantova
Gonzaga, once in the dialect of Mantua, partly as natural boundaries has the Mincio River, which separates it from the province of Veneto, is a town of 7273 inhabitants in the province of Mantova in Lombardy, composed of five villages, one of which, Ferri-Falzoni, born from the union of two hundred inhabitants of each locality. Here we are in the heart of the moraine hills with their ups and downs characteristic of cultivated fields and vineyards that look like gardens.
HISTORY OF VOLTA MANTOVANA

Volta Mantovana, located on the first hills of the Garda, has ancient origins. The first settlements can be traced back to the stage of Polada and the Middle Bronze Age, when they formed small communities on the moraine hills and along the river Mincio (Isolone Mincio). The territory is densely inhabited by Celts, the Etruscans did not escape the penetration and colonization of the Romans, as documented by many testimonies and various archaeological finds relating to those times and now preserved, mainly in the archaeological museum of Cavriana. This situation is due to the unique geographical position of the area, in the hills between Lake Garda and the plain, crossed by the Mincio River, and located close to the northern edge of Postojna and centuriation triumviral.
LOCAL PRODUCTS AND LOCAL CUISINE OF VOLTA MANTOVANA
Mantuan Salami, wild game, fresh egg pasta, wine colli morenici