Church Madonna della Neve
The Church Madonna della Neve is located on what was the first chapel of Cola, and was the seat of the parish until he assumed this title, the Church of St. George, for reasons of safety and comfort of the population.
Church Madonna della Neve once lost dignity of being parish became the center of a strong devotion to Mary under the title of Our Lady of the Snows to commemorate a miraculous event related to the construction of the first western basilica in Rome in honor of Mary.
Externally The church is located in prominent position on the road to Sandrà, anticipated by a courtyard with cypresses, the façade has a gable roof and a fresco of the Virgin in the center that dates back to the twentieth century, the tower has the shape of a sail and located on the northeast; inside we find a marble altar with a figure of the Madonna with Child, it is a statue dating back to the late Middle Ages, in the chancel and the nave there are frescoes also the first half of twentieth century.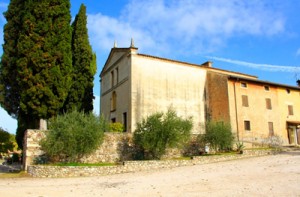 foto Osvaldo Sorio