Lake Garda Boats – Bisse Lake Flag Regatta
Lake Garda Boats – Bisse Lake Flag Regatta
Nine races starting in mid-June in Garda and end in August in Torri del Benaco, beginning between 5:30 pm and 6:30 pm and also including a series of regattas with female crew, this not from all towns.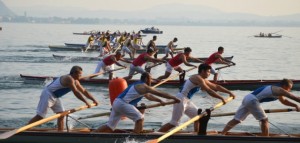 Calendar Lake Garda Boats – Bisse Lake Flag Regatta 2015
June 13: Garda (night-time – female)
June 20: Desenzano (evening)
June 27: Bardolino (evening – female)
July 4: Gardone Riviera (night-time)
July 11: Gargnano (night-time)
July 18: Peschiera (evening – female)
July 25: Lazise (evening – female)
August 1: Cassone di Malcesine (night-time – female)
August 8: Torri del Benaco (night-time)
Bisse regatta evening time start at 5.30 pm – night-time start at 6.30 pm
History Bisse Lake Garda Boats
Lega Bisse del Garda, which brings together, oversees and coordinates all Bisse lake, consists of the sports groups of Lazise, ​​Garda, Gargnano, Bardolino as founders and joined later by groups of Lake Garda and Lake Iseo. They were aggregated to represent other localityes as Cassone di Malcesine, Peschiera del Garda, Sirmione, Torri del Benaco Portese San Felice, Gardone Riviera, Salo, Desenzano del Garda, Limone, Toscolano, Clusane d'Iseo, Castelletto di Brenzone , Rivoltella Desenzano, Paratico and Monte Isola.
The bissa is directly derived from Venetian boats of the fifteenth century, and in particular from Venetian bissone, which was brought on the Garda Lake between 1405 and 1796, during the period of the Venetian Republic domination; they are linked to ancient traditions as some events, including the Bisse Regatta. The structure of these boats flat bottom for better water flow and suitable for the Venetian rowing, standing up and using the whole body with synchrony, rhythm and balance; rowers are four for each boat. The first regatta on Lake Garda Bisse should have been in 1548 in Salò, to celebrate the arrival of the "clarissimus provvisore" Stefano Tiepolo and since then the races were staged on the occasion of important events that took place on Lake Garda; as a reward, the best rowers, was reserved the honor to pull on the Grand Canal of Venice. After a gradual decline until the early twentieth century, between 1924 and 1938, there was a rebirth of traditional rowing encouraged by important figures of the time, among them there was also Gabriele d'Annunzio, who commissioned to sculptor Colbertaldo one Trophy that is currently preserved at the City of Lazise.
Groups Bisse lake Garda and lake Iseo
1967 – Lazise – Founder Lega Bisse
1967 – Garda – Founder Lega Bisse
1967 – Bardolino – Founder Lega Bisse
1967 – Gargnano – Founder Lega Bisse
1969 – Cassone (Malcesine)
1970 – Peschiera del Garda
1970 – Sirmione
1970 – Torri del Benaco
1971 – Portese (San Felice del Benaco)
1974 – Gardone Riviera
1976 – Salò
1977 – Desenzano del Garda
1977 – Limone sul Garda
1979 – Toscolano Maderno
1980 – Clusane d'Iseo
1993 – Castelletto (Brenzone)
1993 – Rivoltella (Desenzano del Garda)
2011 – Monte Isola
2011 – Paratico