The City of Besenello in Vallagarina is located halfway between Rovereto and Trento, at the foot of the hill where Beseno Castle, from which it takes its name, the village is located in a sheltered and sunny position, between the mountains and the river Adige, surrounded by fields of vineyards.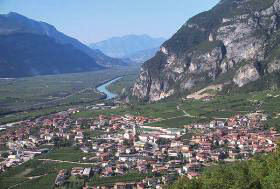 TERRITORY

Province: Trento
Hamlets: Acquaviva, Compet, Dietrobeseno, Golla, Màsera, Ondertòl, Posta Veccia, Sottocastello
Surrounding municipalities:
Aldeno
,
Calliano
,
Nomi
, Trento, Bosentino, Centa San Nicolò, Folgaria, Vattaro, Vigolo Vattaro
Altitude: 218 m s.l.m. – Inhabitants: 2500 (2010) – Inhabitants name: Beseneloti
Saint patron: Sant'Agata – Festivity day: 5th february
HISTORY 
Not far from Besenello are found traces of prehistoric settlements. At one time the town of Besenello was united with that of Callander, then separated during fascism, yet united and separated in 1947.
TO VISIT IN BESENELLO
Church of Sant'Agata, Church of Santa Marina, Beseno Castle
TYPICAL PRODUCTS OF LOCAL CUISINE
Vallagarina wine,