Cavriana
is a small village of ancient origins which had one of the largest forts in the past Mantua. Located on the latest morainic hills of Lake Garda, at the beginning of the Po Valley, the historic center surrounded by the walls of the castle. Cavriana interesting to see there is the Rock, the Oratory of San Sebastian, The Parish Church of Santa Maria Nova, Archaeological Museum and the Museum of Mantua "Old Mill and Old Crafts".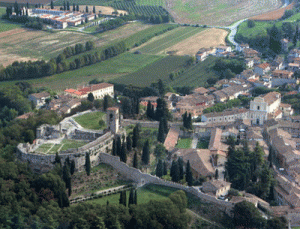 TERRITORY OF CAVRIANA

Province: Mantova
Fractions: Bande, Campagnolo, Castelgrimaldo, San Giacomo, San Cassiano
Population: 3.864 – Inhabitants name: cavrianesi
The territory of the municipality of Cavriana extends between the last hills of the Garda and the beginning of the Po Valley.
HISTORY OF CAVRIANA

Cavriana takes its name from the work of its inhabitants, that is, herding, from "Capriana". The first discoveries date back to the Neolithic and the beginning of the document appears in the early eleventh century. Between the eleventh and twelfth centuries were built fortification walls, the church and the speakers of St. Sebastian and St. Blaise Castle. In the thirteenth century, the Riva, driven by Bonaccolsi from Mantua in 1291, completed the fortification of Cavriana.
TO VISIT IN CAVRIANA

Monument to the fallen of the Mille Miglia, the Archaeological Museum of Mantua, Old Mill Museum and Ancient Crafts, Church of Santa Maria della Pieve, Oratory of St. Sebastian, Church of Santa Maria Nova, fortress-castle of Cavriana
TYPICAL PRODUCTS OF LOCAL CUISINE OF CAVRIANA
Mantua salami, fresh egg pasta, wild game