The City of Dro' is one of the oldest communities in the valley of the River Sarca,
is a small village surrounded by Lake Cavedine and Lake Toblino with the old buildings and old houses between the narrow streets, embellished with stone portals with arches and keystones with coats.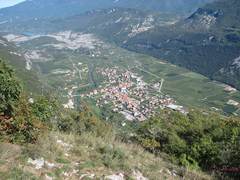 Province: Trento
Fractions: Ceniga, Pietramurata
neighboring municipalities: Arco, Calavino, Cavedine, Drena, Lasino, Comano Terme
Altitude: 123 m s.l.m. – Population: 4.030 – Inhabitants name: droensi
The municipality of Dro' is located in the hinterland behind Arco, in the end part of the Sarca Valley, which runs along its length and the beginning of the Valley of Lakes. The landscape is characterized by the valley "marocche", glacial boulders tumbled down from the mountains and grouped into large clusters barren, with little vegetation.