The municipality of Ferrara di Monte Baldo
is a small centre wich lies in a panoramic position on the eastern side of Monte Baldo,
in a green valley located almost halfway up the hill, hanging between the Adige Valley to the east and the peaks of Monte Baldo to the west and north. In this magnificent valley, made of vast meadows and covered by thick coniferous woods, lie several smaller villages, destinations of a residential tourism that characterizes the area and that developed under the sign of a strong respect for the environment. An admirable example of this are the villages of "Alpino" on the western side of the valley and the villages of "Albarè" and "Monte Cucco" on the eastern one.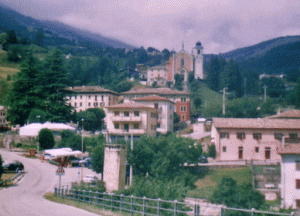 TERRITORY OF FERRARA DI MONTE BALDO

Ferrara di Monte Baldo, with fractions of Novezza and Novezzina, is the least populated of Verona and the second at regional level, its territory reaches the ridge of Monte Baldo and occupies the Bear Valley, an area rich in natural beauty such as the famous endemic flora of Monte Baldo. For several decades, is known to be a ski resort very popular with sports in Verona and Brescia.
HISTORY OF FERRARA DI MONTE BALDO
The name Ferrara di Monte Baldo very easily derived from the iron deposits that the Romans exploited, after them, in the sixth century AD the territory came under the dominion of the Lombards and the Franks after a century. Became common in 1193, was then a part of the territories of the Scala family, who rebelled in the middle of the fifteenth century witnessed both wars in the eighteenth century, during the campaigns of Napoleon in Italy, and during the wars of the Risorgimento that the border with Austria until 1915 that memory remains in the trenches that are located nearby.