The Village of Magasa is located in the hinterland of Garda lake at 986 meters high,
its origins are ancient and here everything is as it was once. Characteristic to visit the rural village of Cima Rest, where we find the observatory, at 1300 feet high, the Ethnographic Museum, with various tools of rural life time; barns Cima Rest and Denai with a thatched roof, of Longobard origin, which have been restored and made available to the tourists. This is the area of production of the famous cheese Tombea.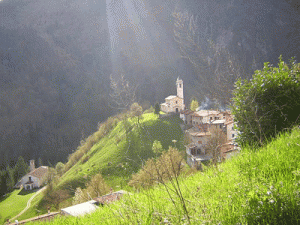 TERRITORY OF MAGASA

Province:
 Brescia
Fractions:
 Cadria, Cima Rest
Surrounding municipalities:
 Bondone (Tn), 
Ledro
 (Tn), 
Tignale
, 
Tremosine
, 
Valvestino
Altitude:
 986 m s.l.m. –
Population:
 153 –
Inhabitants name:
 Magasini
Magasa is in Valvestino between Lake Garda and Lake Idro part with eight other municipalities of the "Parco Alto Garda Bresciano" of Gargnano and since 1964 belongs to the Diocese of Brescia.
HISTORY OF MAGASA
The name Magasa derives from Mag (field) and Gasa ancient name of Tombea, was inhabited by Stoni, by the Galli Cenomani and was later Roman rule and Longobard. Just the Longobards seem to have left traces of their passage in the frame of beams that make up the roofs of thatched barns that still can be seen on the plateau of Cima Rest. From the twelfth century until 1805 with Cadria was a fief of the Counts Lodron. In 1866, during the Third War of Independence, camped the "garibaldini" partisans who participated at siege of the Fort Ampola and the battle of Pieve di Ledro. Between 1870 and 1925 many of the inhabitants of Magasa migrated to the United States of America. In 1928, during the fascist regime joined with the municipality of Valvestino who, in 1934, passed by the Province of Trento to the province of Brescia, with the fall of Fascism in 1947 Magasa regained its autonomy. From the ecclesiastical point of view Magasa belonged to the parish of Tignale this until 1785.
LOCAL PRODUCTS OF MAGASA
Cheese Tombea,