Montichiari is a town with a very large territory, surrounded by his surroundings, the past decade has been a notable development, in his town has five squares. Its origins date back to prehistoric times, at the time of the barbarians was razed to the ground several times and the castle of Montichiari we can see now
"Bonoris Castle" is a reconstruction of the previous strong. A Montichiari you can visit several historical buildings: the castle, Piazza Santa Maria, the Church of St. Maria del Suffragio, the cathedral, the former civil hospital (which was formerly a church), some buildings, and more. Here there is also the "Montichiari Garda Fair Centre" home of the Fair center of Garda, born in 1984, of considerable size, which houses during the year national and international exhibitions.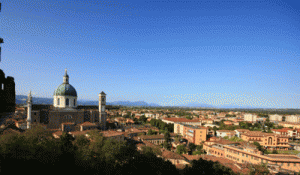 TERRITORY OF MONTICHIARI

Province:
 Brescia
Hamlets:
 Bredazzane, Campagnoli, Chiarini, Fascia D'oro, Novagli, Rò, Santa Giustina, Sant'Antonio, Teotti, Trivellini, Vighizzolo, Santellone
Surrounding municipalities:
Calcinato
, Calvisano, 
Carpenedolo
, 
Castenedolo
, 
Castiglione delle Stiviere
 (MN), Ghedi
Altitude:
 108 m s.l.m. –
Population:
 22.452 –
Inhabitants name:
 monteclarensi
The old town of Montichiari is at the center of 80 kilometers that make up the area around it and how to protect it are its fractions: Novagli, Bredazzane, S. Antonio, Ro, Santa Giustina, Vighizzolo, Chiarini, Boschetti, Teotti, FAscia d'Oro and Santellone. The municipality of Montichiari has five squares, Piazza Treccani (east), Piazza Teatro (south-west), where there is now social theater, Piazza San Rocco (south-east) where there is a library named and the Pinacoteca Giovanni Treccani Pasinetti, and last Piazza Municipio where we find the Town Hall.In the last decade Montichiari has expanded greatly thanks to its vast territory. Although it has been so expanded and took on the appearance of a big city, here you can still live in peace. We can find a sports hall, a large fair center, a hospital, and a few museums. A curiosity, Montichiari is the only indoor velodrome in Italy.
HISTORY OF MONTICHIARI
Montichiari has a rich history of respect, the many archaeological remains that have been found are the prehistoric and Roman period, the research that the Archaeological Group Monteclarense made ​​under the guidance of the Superintendence for Archaeological Heritage found that the town was razed to the ground once in 382 AD by Alaric King of the Goths, and a second time in 447 Attila the Hun which was then subjected to the domination of the Lombards. In the Middle Ages it was the family feud Longhi, and for two months in 1237 the town was besieged by Frederick II. From 1426 until 1797 he settled the Serenissima Republic of Venice. In 1807 Napoleon Bonaparte ordered the construction of a military barracks with the extension of one square kilometer, but there are none remains in Montichiari.
TYPICAL LOCAL PRODUCTS OF MONTICHIARI