Riva on Garda is the most important town of North Garda
Riva on Garda is surrounded by olive trees, lemon trees and palms, its historic center runs
between districts embellished with stately palaces, squares, surrounded by Lake Garda in fact, already in the second half of the 800 Riva del Garda was a place to stay for famous names in culture, including Kafka, Nietzsche and Mann. To visit in Riva del Garda, the medieval part of the town that stretches from the port to the Apponale tower, with its palaces, patios, doors and the remains of the wall that surrounded Riva. Not far away is the castle built in 1124 and now houses the Museum at the foot of Mount Rocchetta find the hydroelectric plant Ponale, just above you can see the Bastion, a stronghold of the Venetian Renaissance.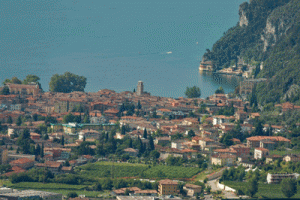 TERRITORY OF RIVA ON GARDA

Province: Trento
Hamlets:  Campi, Pregasina, Varone
Surrounding municipalities: Arco, Limone, Ledro, Tenno
Altitude: 73 m.s.l. – Population: 16.093 (2012) – Inhabitants name: rivani
Saint patron: Saint Maria Assunta – Festivity day: August 15 – November 30
HISTORY OF RIVA ON GARDA
Riva on Garda have found various items prior to the time of the Romans, but do not give reliable information on the town and its population are Benacenses, Sabini, Cenomani Gauls, Etruscans. There are a number of Roman finds, for example, in the hamlet of Campi, near the church of St. Martino, is coming to light that probably could be a village shrine that was later abandoned. After the Romans passed Goths, Longobards, Franks and later the domination of the Scala family, the Visconti, the Republic of Venice and Trento. Built by the Venetians remains the bastion on the hill called the "Germandi", the church and the tower of St. Giovanni, on the hill of St. Maria Maddalena, in Pinza hamlet. Once upon a time there was a road that connected with the Riva Brescia and passed by Campi, Trat, Ledro, right next to the crossing Trat was built by Rivani in the Middle Ages a castle to control the passage. Nearby, in the "Valle dei Morti" (valley of the Dead), The Venetians had a violent clash with the Visconti. From the seventeenth century Riva on Garda will be under the influence of the Prince Bishop of Trent.
TYPICAL PRODUCTS OL LOCAL CUISINE OF RIVA ON GARDA
Lake fish of Garda lake, Carne salada, Extravirgin Olive Oil of Garda lake,