San Felice del Benaco is in Valtenesi,
a popular tourist destination overlooking the west coast of Lake Garda.
The name of
San Felice
comes from the Latin "
sinus felix
" "happy creek". In addition to the village of San Felice, the municipality comprises the towns of
Portese
,
Cisano
and the beautiful
Isola del Garda
, also called
Isola Borghese
from the name of a noble Roman family in which the island belongs. Popular tourist destination during the summer, San Felice and centers within its municipality are equipped with a large number of hotels, lodges, camping and bed and breakfast overlooking the lake. Some hotels are also present in the small village of Portese, an old fishing village. The three centers Disan Felice, Portese and Cisano, along with the Isle of Garda, are places of great interest, both for those seeking an active holiday for those looking for a relaxing holiday during which devote to walks in the woods, hiking boating and other activities typical of lake holidays, and also for lovers of cultural tourism, which will appreciate the historic and artistic wealth that characterize these towns.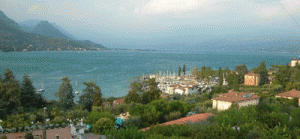 TERRITORY OF SAN FELICE DEL BENACO

HISTORY OF SAN FELICE DEL BENACO
Numerous studies show that these places were inhabited during the Roman era. According to tradition, St. Francis of Assisi founded the first dormitory of Roman friars on Isola del Garda. After the destruction of the ancient castle of Scovolo, the population migrated to Portese and San Felice, where they built the Castle of San Felice. The country suffered the domination both French and German. During the war of succession to the throne of Spain, in the early eighteenth century, suffered the passage of armed troops, which had to assure supplies of timber, without being able to prevent episodes of violence.
LOCAL PRODUCTS AND LOCAL CUISINE OF SAN FELICE DEL BENACO
Garda Classico doc wine of Valtenesi, lake fish of Garda lake, Extra virgin Olive Oil of Garda lake dop,