San Pietro in Cariano is part of the Valpolicella,
is a few kilometers from Lake Garda and is composed of five villages rich in history and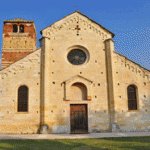 traditions:
Pedemonte
,
San Floriano
,
Corrubbio
,
Castelrotto
and
Bure
. The territory is almost totally flat with some hills in terraces on the north side and is crossed by three rivers that come from Fumane, Marano and Negrar. In the town there are various buildings of artistic interest also of great value, such as:
Villa Girardi
,
Villa Monga Negri Scipioni
,
Villa Bellini Carnalesi
,
Villa Serego
Villa Ottolini
designed by Palladio and various others. Another treasure of the place, and of the entire Valpolicella is the kitchen and the wine Valpolicella known worldwide.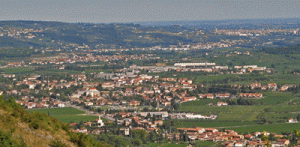 TERRITORY OF SAN PIETRO IN CARIANO

San Pietro in Cariano is located about 14 km from Verona and is composed of five villages: Bure, Castelrotto, Corrubbio, Pedemonte and San Floriano. The area is at the beginning of the Lessini Mountains which is part of the Valpolicella and is mostly flat terraced, then type foothills, crossed by three streams of no great importance because of little or no flow depending on rainfall. The mild climate and the terrain make it a place devoted mainly to agriculture and the cultivation of the vine.
HISTORY OF SAN PIETRO IN CARIANO

 In San Pietro in Cariano the presence of man has left since the time of the Neolithic. The name "Cariano", which is also a district near the capital, seems to derive from the late Latin "Carilianus" (= land owned by Carilius). The area is rich in finds from the Roman period, as it was easily a popular residential location, having regard to its territorial centrality, remains of houses have been found in rural locations Ambrosan, San Floriano and Castelrotto, even at that time was known wine of this area . Later, with the republic of Venice, Verona experienced a period of economic development and well in San Pietro in Cariano were built many villas. Well worth a visit is Villa Serego in S. Sofia Pedemonte, based on designs of Palladio. Interesting are Fumanelli Villa San Floriano Villa Saibante – Monga and Villa Pullè – Galtarossa in San Pietro in Cariano, Villa Giona – Beans a Ledge. After World War II the town has experienced another period of economic development.
TO VISIT IN SAN PIETRO IN CARIANO
Villa Serego. Villa Saibante-Monga-Costanza, Villa Pullè-Galtarossa, Villa Giona-Fagioli, Chiesa San Ulderico, Pieve di San Floriano, Villa Acquistapace-Castellani, Villa Perez-Bertoni-Montresor, Villa Santa Sofia,
LOCAL PRODUCTS AND LOCAL CUISINE OF SAN PIETRO IN CARIANO
Valpolicella wine, wine Amarone, wine Ripasso, wine Recioto