Moving south from the shores of Lake Garda there is Solferino,
a pleasant village situated on the gentle hills which form the amphitheater of
Colline Moreniche del Garda
before the Po Valley. The village is known for the violent battle between French-Piedmontese and Austrians in 1859 the Battle of
Solferino San Martino
. The current symbol of the town is the medieval tower that stands on the hill where he developed the town and from the terrace you can enjoy a spectacular view, it could be called the "Spia d'Italia" (Spy of Italy). Of particular interest is the castle square with panoramic views across Lake Garda, the church of St. Nicola of 600, the ossuary of the fallen, the memorial to the Red Cross.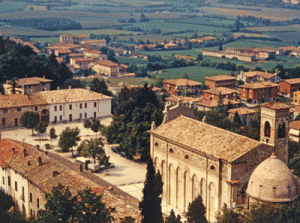 TERRITORY OF SOLFERINO

Solferino is a small town located in the south inland of Lake Garda, where the foothills begin forming the moraine and separate the lake from the north, is a typical hilly area covered by vineyards and farmland, the climate is mild and relaxing landscape. The main activity is agriculture and the production of wine, but it is affected tourism from the end of Lake Garda. The town can be reached quickly from Castiglione or by Pozzolengo.
HISTORY OF SOLFERINO
The first findings in this area have been in place and boats were stilts and objects of stone, bone and wood, and subsequently spent several people: the Gauls Cenomani, who left tombs surrounding municipalities, the Romans which has been found the of a road in Pozzo Catena and the barbarians who brought looting and there is then a long period without major events since the mid-sixteenth century, when the Gonzaga rebuilt the castle and watchtower. The facts that have made particularly common are the wars of independence, before the battle of Castiglione in 1796 and then the second, decisive battle of Solferino San Martino in June 1859, when these hills they met the French armies, Austrian and Piedmontese, with about three hundred thousand and thirty thousand wounded left to themselves in the field, that gave an opportunity to the Swiss Henry Dunant to found a first aid association later became the Red Cross.
LOCAL PRODUCTS AND LOCAL CUISINE OF SOLFERINO
Custoza wine, Mantua salami, Fresh egg pasta, chisol, sbrisolona cake