Villafranca was founded in 1185 as a village bordering Mantua,
although nineteenth-century appearance, has a central position between towns of Verona and Mantua and it is an important commercial centre. Very nice to see is the Scaliger Castle Villafranca, with its internal towers and the museum of the Risorgimento, inside the castle there are often artistic and cultural events. Economically, the city is characterized by the cultivation of peaches, with a famous market and the presence of various industries, as well as a civil and military airport. Here is a nice antique market held regularly.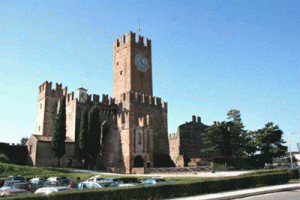 TERRITORY OF VILLAFRANCA

Province: Verona
Fractions: Alpo, Dossobuono, Pizzoletta, Rizza, Rosegaferro, Quaderni, Caluri
Bordering municipalities:
Castel d'Azzano, Mozzecane, Povegliano Veronese,
Sommacampagna
,
Valeggio sul Mincio
, Verona, Vigasio
Altitude:
54 m s.l.m. –
Inhabitants:
32.866 –
Inhabitants name:
villafranchesi
Between Mantua and Verona Villafranca we find that the number of inhabitants is the second largest in the province. Villafranca is located in the plains and its territory is crossed by the river Tione dei Monti, who then enters into Tartaro.
HISTORY OF VILLAFRANCA
The origin of the name is of the Middle Ages when, on the occasion of the foundation by the Council of Rectors of Verona, the city took on the characteristics of the village boundary freed from taxation, which "Villa franca". Villafranca had a 'considerable military importance, in fact in 1243, through the town of Verona, he built a fortified structure, mutatasi then in 1243 in the castle. In the history of Villafranca is remembered both for the Peace of Villafranca, which ended the War of Independence, both for the clash that turned in June 1866 during the third war of independence (which took part Umberto I: Future King of Italy).
LOCAL PRODUCTS AND LOCAL CUISINE OF VILLAFRANCA
Wine Custoza, Broccoletti, Sfogliatine of Villafranca