Valeggio Scaliger Castle
Originally a fortified stronghold to protect the underlying passage on the river Mincio again at the time of the Holy Roman Empire, partly collapsed with the earthquake of 3 January 1117.
Valeggio Scaliger Castle dominates the village from mount Ogheri, on the left side of the river Mincio, making it even more impressive medieval fortifications surrounding. The oldest part of the building, called rocca, was almost completely lost in the earthquake of 1117, it remains the Round Tower, horseshoe particular construction of the tenth century and some wall in the inner part. The following complex dates back to the fourteenth century, of which the medieval period preserves the battlements, the walls now crumbled and one of the three drawbridges on the deep moat that surrounds it; of the fortified part that united the fortress with the walls of the menagerie, called castle, remain only parts of the perimeter walls and inside them was built at the beginning of '9oo a private villa.
In 1345 the Scala begin the construction of the wall of the Serraglio, which started from the below Mincio river, joined the Castle of Villafranca ending close to that of Nogarole Rocca. Subsequently the Visconti will strengthen the part on the Mincio more with the construction of the Visconti bridge
The inner courtyard of the castle every summer hosts the events of the Summer Festival of Entertainment and Culture and Film series.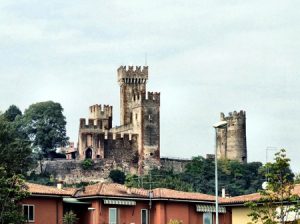 photo Roberto Tomei