Gargnano buildings
Characteristic architectural elements of the XV-XVI-XVII centuries that are found along the buildings of the historical center of one of the centers of the Italian Riviera Magnifica Patria
Gargnano buildings
Bogliaco, via Trento (now via Trieste): (XV century) On the narrow road that enters the small urban complex of Bogliaco and that was until the beginning of this century the main communication route of this side of the lake, on the morning side, not far from the side gate at noon of the grand and sumptuous villa Bettoni, you can see a house, today reduced to a rustic dwelling, which still preserves some remains of a noble fifteenth-century residence. This is the first nest of the Bettoni family. On the façade, black and white graphite and monochrome frescoes can be seen here and there. There were several windows with arch in the center, two of which worked in marble to make a jamb of taste completely Venetian. One of the windows is elongated because most likely will have had before the balcony. In front of this house there is another without any outward sign, but which keeps in a room on the ground floor pleasant rustic decorations with small views of the century. XVII.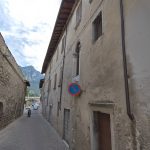 Gargnano buildings
Costa: (XVI century) A strange old house with a lot of character, but indefinable in every aspect, both chronological and style. It is a very rustic house, poor in its architectural manifestation, but we believe it is opportune to point out why it is rarely possible to find so much desire to build one's own residence, even if with rudimentary and modest means. Indeed, that peasant has succeeded, with those overlapping lodges of four arches built in thick wall, as if they were dug into the rock.
House Bettoni, Bogliaco: (XVI century): In front of the ancient house of the Bettoni stands a small house without its own character, but which preserves interiors with walls decorated with landscapes painted in a rather naive, but very tasty. It is always owned by the Bettoni accounts, but there is no recollection in the family of when and by whom this small but singular lodging was built. It is a crude L-shaped construction without decoration tinsel, but with a gruffly asapetto worthy of the first lords of the tiny fiefdom. There is no portal, but a vault – typical of our mountain constructions – leads into the interior; shaves windows in the three simply framed stone floors; only a later balcony brings a note of smiles in the severe set.
Gargnano buildings
Already it was said of this small fiefdom, first formed by Filippo Maria Visconti in favor of a Medalli family then confiscated from them by Venice and granted in 1441, together with the lordship of Cimbergo and the much discussed one of Bagolino, to the Lodrone that powerful family thirty that, unusual, had favored the cause of Venice. It is known that from the Lodrone the feud passed to the Bucelleni and, at the end of the century. XVIII, was bought by the Cigola counts.
Historical sources Fausto Lechi, "Dimore Bresciane, in cinque secoli di storia"