Pontenove bridge on Chiese river
Pontenove bridge on Chiese river it is a structure of the early eighteenth century that replaced the previous one in wood.
Pontenove bridge on Chiese river: at the time of the Romans there was a bridge, located about seven hundred meters to the north, of which some remains remain visible in the riverbed when it is dry; subsequently a wooden bridge was built in the current position to serve the pail of Pontenove which over time became increasingly important. The wooden structure has been repeatedly built and demolished, as for example in 1337, during the struggle between the Visconti of Milan and the Community of the Brescia Riviera, a period in which the latter was entering the influence of the Serenissima. During periods when the bridge was unusable we used some fords, one located about eight hundred meters to the north and another in the area of Cà del Bisso, where there is still a paved road in cobblestones that leads to the open countryside. In the eighteenth century the City received as a gift from the archpriest Leonardo Benaglio the bridge with toll rights therefore, since the maintenance costs of the wooden bridge were frequent, he decided in 1718 to build a new one in stone. In 1743 he was asked to build a niche with the statue of San Giovanni Nepomuceno and the following year he also built the portico in front of it. Probably both the bridge and the niche with the arcade are designed by the architect Antonio Spiazzi, who at that time was in charge of the construction of the parish of Bedizzole.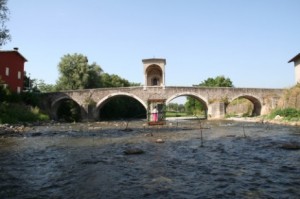 Historical sources: Emilio Spada "Bedizzole, Antichità Romane e Nuovo Studio Storico"